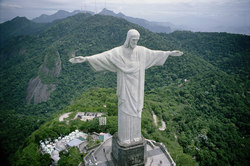 Brazil already has the World Cup and Olympics coming to its shores, and David Stern wants the NBA to be part of the wave, too.
The NBA preseason tour may go to Brazil in the coming years, David Stern said before today's Knicks and Timberwolves and Paris, according to the Associated Press. He said the goal was to get there before the 2014 World Cup.
"My backup position is prior to the Olympics," Stern said of the 2016 Games in Rio de Janeiro. "We are well aware of the World Cup and Olympic expectations. And we expect to be following up on that opportunity relatively shortly."
The NBA also plans to open an office in Brazil, Stern said.
Last season there were three Brazilian players in the NBA — Anderson Varejao, Leandro Barbosa and Nene. There have been eight players for the country overall to put on an NBA uniform.
I'm putting in my request now to my bosses at NBC — it is vital that I cover any game in Brazil in person. No, it has nothing to do with the crowd there being better looking than the ones this week in Paris and Milan. Nor the great beaches in Brazil. Nothing at all. Why would you think that?