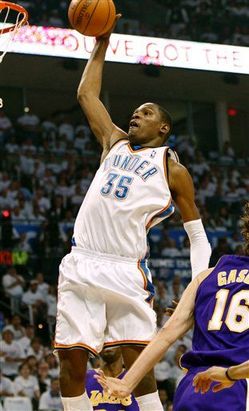 You're not the only one who thinks there will be voter fatigue — or backlash, if you wish — against LeBron James when it comes time for MVP voting.
General managers around the NBA seem to think so, according to the results published at TrueHoop. In its annual survey of GMs, NBA.com found one just one vote for LeBron James to three-peat as MVP. One. Same as Dwight Howard. Kevin Durant was the runaway winner with two-thirds of the vote.
Durant may well be MVP (he's my pick) and he will be deserving — he was the league's leading scorer last year and the clear leader on an up-and-coming team that could make the next step this season.
But James is the two-time, clear winner MVP and now will be the best player on one of the best teams in the league.
The fact that just one GM (can I guess Pat Riley?) voted for James speaks more the James burnout than anything. Around the league teams are tired (and a little jealous) of all the Heat talk. They want to knock them off the perch.
Those same GMs think the Lakers will — 63 percent predict a three-peat for the Lakers. The Heat got one-thirds of the votes, the Celtics got one vote.
Other votes include:
* John Wall got 68 percent of the vote as the likely Rookie of the Year, with Clippers' Blake Griffin second.
* Deron Williams got half the vote to be named best point guard over Chris Paul, the first time D-Will has beat CP3.
* For the first time in eight years, Tim Duncan was not named best power forward. Dirk Nowitzki and Pau Gasol tied for that honor.
* As you would expect, Dwight Howard was the best center running away, LeBron the best small forward and Kobe the best two guard. Kobe also won the vote for guy you most want taking the last shot, for the ninth straight year.
* Derrick Rose was voted fastest with the ball, Ray Allen the best pure shooter.
* The most fun team to watch according to GMs? The Oklahoma City Thunder. They got that one right.