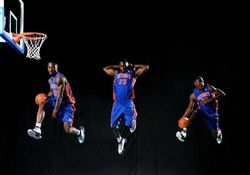 UPDATE 5:37 pm: Just a bad outcome for White — he needs to have surgery to repair his broken foot and will go under the knife on Friday, according to the official Detroit Piston twitter account.
How long he will be out will be determined after the surgery. However the basic rule of "foot surgery is never good news for basketball players" applies here. Hopefully it is not that serious and as a young buck he can bounce back.
8:26 am: In the second half of the Pistons first preseason game, Pistons rookie Terrico White broke his foot and now will be out through the rest of camp and into the season.
Exactly how long he will be out will be determined after a re-evaluation of this foot today, tweeted Vincent Goodwill of the Detroit News.
The injury happened in the second half but wasn't really diagnosed until the Pistons were back in their locker room, where suddenly Pistons staff was carrying White around.
White, drafted last June in the second round out of Ole Miss, is a bit of a project for Detroit. He may well be the best athlete in the draft but he was very raw. During Summer League we saw a player who showed flashes of that athletic ability but for the most part seemed to be thinking more than just reacting. The Pistons signed him to a two-year deal to see if he could harness those physical gifts.
This, obviously, is a bit of a setback. Camp was where guys like White can get focus from the coaches. During the season there is little time for practice with one-on-one instruction.