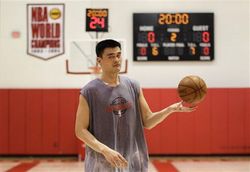 It can be easy — too easy — sitting on our couches or on our computers to just throw Yao Ming in the often-injured pile. But it's really not that simple. We can forget just how good he was. This is a 7'6″ guy who can bang in the paint and has a soft touch jumper. He is a tremendous rebounder and defender. He carries himself with grace.
In a fantastic story by Sam Amick at Fanhouse, he details how Yao is pouring everything he's got into one more comeback, going to fantastic lengths to get his body ready. At the same time, he realizes he may not get to do this much longer.
"I already created a lot of troubles by saying I might retire or something, so I don't want to get your misunderstanding on this, but I'll still try my best," said Yao, who missed the 2008 NBA playoffs after breaking the left foot for the first time but rushed back to play with his national team in the Beijing Olympics that summer. "I'll still get back to playing the sport I've been playing for 20 years and has brought me a lot of fun, and gave me a very successful feeling during my career. I don't want to let go that easily…I'm going to still try hard to get back, but I know if one day is the day, then that's the day. It's just a matter of time."
—-
"We got taped after (a team breakfast during training camp), and Yao had four people pulling on different parts of his body," [Shane] Battier said. "They were just working on his ankle while trying to strengthen his glutes and trying to make sure everything is in working shape and working order. Just to have four people manually manipulate your body like that, that's not a first-time occurrence. He's had people pouring over him, just scrutinizing the way he walks, scrutinizing the way he runs and the way he jumps.



"Every time he falls people are scrutinizing — training staff, the fans, coaches, teammates. After a while, I think I'd say, 'To hell with this. I'm done with it.' But I don't think Yao has ever complained. He has stayed pretty positive throughout the experience and that's the reason why he's in training camp today."
Go read the entire story, one that brilliantly shows the sides of Yao that have made him special. The kind of person you root for, not just the kind of basketball player you root for.
This is a roster that if everything went perfectly could be very, very good. But it's hard to expect everything to go right. But don't just throw Yao on the injury pile; it's not that simple.