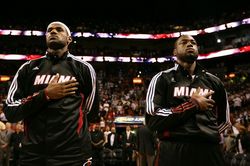 So what did the Heat learn Tuesday night, as they unveiled their Big Three in their 105-89 exhibition victory over Detroit?
What they already knew.
And what Erik Spoelstra's team knows can't be the rule.
With Dwyane Wade sidelined by a strained right hamstring that could keep him out for two weeks, the Heat had a mere 3 minutes, 17 seconds with LeBron James, Chris Bosh and Wade on the court.
Over that 3:17, the Heat had three turnovers, two baskets and trailed 5-4.
Granted, with actual energy at AmericanAirlines Arena (who knew?), early jitters could have been expected.
But when Wade left, James took control of the offense, even while playing alongside de facto point guards Carlos Arroyo and Mario Chalmers, who rarely got to play as actual point guards.
That also is when Bosh settled in comfortably in the low post, without a shot to that point.
And that's the rub. The preseason was when the Heat were going to find a way to make this work, especially the chemistry between James and Wade.
The highlight of camp had been the one-on-one between James and Wade during drills. It was worth the price of admission and those endless security waits at the Hurlburt Field Air Force installation.
But that's not what this is about.
This is about Wade and James and something more than All-Star or Olympic-style play.
For the next four exhibitions, James will do for the Heat what he has done the previous seven years. And he'll look as good doing it as he did Tuesday.
"I can't defer," he said of an approach that could be essential this season. "I'm never in defer mentality. I'm always in attack mode."
And in the absence of Wade, as the clear-cut secondary option, and the focus of James' passing, Bosh will load up on his numbers.
But it doesn't matter.
None of it will matter. For the next two weeks, the Heat will be irrelevant.
Because everything they need to accomplish this season has to be accomplished with Wade working in concert with James.
Tuesday, it was as if LeBron was back in Cleveland.
And he is more than aware there has never been a happy ending there.
For those who had tired of the overkill, enjoy these next two weeks. Because the Heat won't be the story. Without Wade, they can't be the story.
 Ira Winderman writes regularly for NBCSports.com and covers the Heat and the NBA for the South Florida Sun-Sentinel. You can follow him on Twitter at http://twitter.com/IraHeatBeat.