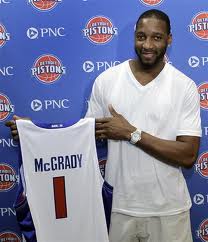 Tracy McGrady was honest.
Plenty of NBA players have said LeBron James, Dwyane Wade and Chris Bosh had the right to do what they did in Miami, that they wish them well, but McGrady told Tim Povtak of FanHouse what is really on the minds of 90 percent of the players in the NBA.
"I am envious (of Miami's Big Three). I'm jealous as s**t," McGrady chuckled Tuesday morning before a Pistons workout. "I look at all the teams I've been on, and I never had a Dwyane Wade and Chris Bosh on the same team. I'm jealous, but I'm happy for them. I hope they win 10 damn championships."
McGrady was on some teams that were good — Orlando (with Grant Hill before his injury and where Tim Duncan almost came as a free agent), the what-might-have-been with Yao in Houston. But never anything like Miami.
NBA players want to get paid, first and foremost. This is still a business and they have a limited window to set themselves — and maybe generations — up for life.
But after that, it's still a game. They want to win and have fun. Miami right now holds the promise of both of those — fun guys winning a lot. It could be basketball Nirvana.
It may not be. And there are always prices to be paid. But you can bet that by February in Memphis and Minnesota and Sacramento there will be players jealous as s**t of the Miami Heat.