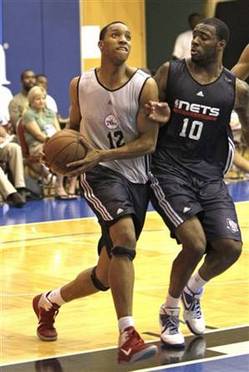 He's the No. 2 overall pick from the last draft, and he is now the No. 2 shooting guard on his own team.
After looking at a variety of options — including the bad idea of Evan Turner the point guard — Philly coach Doug Collins has decided to bring Turner off the bench, according to the Philadelphia Inquirer.
Jrue Holliday will start at the point with Andre Iguodala at the two, giving the Sixers a very good back court. It also has been what Collins has been running in practice. Top picks usually can force their way into the starting lineup but that has not happened  this case.
Look for Thaddeus Young, Elton Brand and Spencer Hawes to round out the starting five. Turner, Lou Williams and Andres Nocioni will be first off the bench, although the rotation will likely get tweaked during preseason. Turner has been getting some run at the point in practice, but that seems a questionable fit.
Turner did not impress at Summer League and now has not been able to push his way into the starting lineup. It's taking some time to figure out how to fit his game into the far more athletic NBA game. He may well get there — he is talented — but for now he seems to be getting off to a slower start than other rookies.