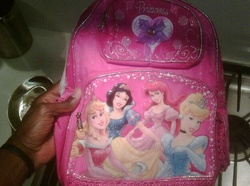 Nobody yet has had to buy a $55,000 dinner for teammates, but there has been plenty of rookie hazing going on at NBA camps. Mostly of the "where are the team donuts" variety. Harmless stuff. Fortunately.
If you catch Paul George or Lance Stephenson walking around with the Pacers this season going into an arena, be sure to notice the pink Disney princess backpacks they will be wearing. The Rookie Wall pointed us to the comments of the players on this and Stephenson was a good sport…
"I might as well have fun with it.  I might throw a Nike sign on it just to make it official.  You won't catch me in (anything else) pink.  The backpack is as far as it goes."
Rather than donuts, the Sixers sent No. 2 overall pick to Chick-fil-A to get enough food to feed the team the other day. No idea what the order was, but you can bet it ran a couple hundred bucks.
And you know if there is one thing coaches and trainers want to see their team eating during camp it's deep-fried chicken in a sandwich with mayonnaise.
There have been rookies forced to dress up as Star Trek characters then head out to dinner and… you get the idea. So far though, nothing but good fun.