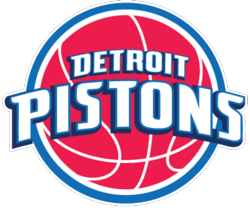 Mike Ilitch, the owner of the Detroit Red Wings and Tigers, is working on the final details to purchase the Detroit Pistons, according to the Associated Press and Crains Detroit Business Journal.
Current Pistons owner Karen Davidson (who took control when her husband Bill died) had said she wanted to have the team sold by the start of the season. It appears that the two sides may well have an agreement by then, although the sale cannot go through until the NBA Board of Governors (the owners) approve the sale, which likely will take a little longer.
The price is not yet known, although it is expected to be maybe $100 million less than the $450 million value estimated by Forbes last year.
This decision — when there were other suitors lined up — is a little bit of a surprise because of bad blood between Ilitch's holding company and Davidson's Palace Sports and Entertainment (which has included trips to court). However, Davidson said she had wanted to make sure the Pistons would not leave Detroit and this makes that a certainty.
Ilitch made his money as the founder of the Little Caesars pizza chain. Ilitch would become the only person to own teams in three of the four major sports leagues in the United States (NFL bylaws would prevent him from buying the Lions without selling the other teams).
It could be a good thing for a Pistons team that had been a powerhouse in much of the 2000s (what is the right name for that decade?) but had slipped in recent years and is on the verge of needing to rebuild on the court. Ilitch has had the Red Wings as one of the top teams in hockey during his tenure, and has done reasonably well in baseball (considering the tortured economics of that sport and competing with the big boys).
Ilitch has already started the planning for a new downtown Detroit arena that would house the Red Wings and now the Pistons, as part of a revival of that area. That deal now seems to take a step forward.
Owning three teams opens up some interesting ideas in terms of selling sponsorship and advertising for the three entieites.