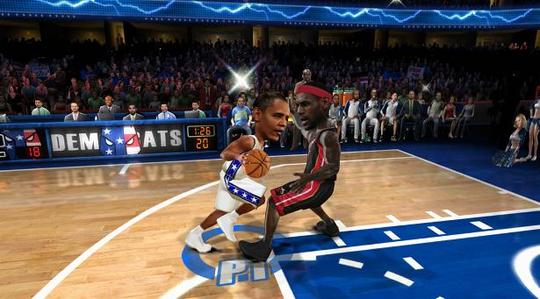 I know that today is NBA2K11 day, and I know that this version kills it. Don't believe me? Then believe Kobe.
But I still am more pumped to sit down and play NBA Jam — the throwback/updated video game of 2-on-2 where the ball catches on fire and the boom-shaka-laka rains down. The one video game where Andrew Bogut can touch the sky.
And this time around they added your favorite politicians (hat tip to KD at Ball Don't Lie). Sure, there is Barack Obama and you can put him up against Dwyane Wade and LeBron James on the Democrats home court (which we believe to be in Massachusetts).
But also in the game are Sarah Palin and George W. Bush. Have them face off against Bill and Hillary Clinton. Then pretend to do commentary like you are Bill Maher ("George Bush with the long three almost from the rich people's seats courtside — and he drains it, then turns around and gives them a tax cut,").
The USA Today has 10 screen shots that you need to check out. The go back to trying to beat the 96 Bulls on NBA 2K11.