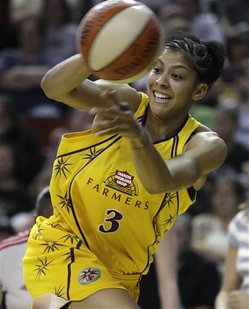 Next summer, rather than talking about Carmelo Anthony, Tayshaun Prince, Tony Paker and the free agent class (or those just pushing for trades anyway) we're going to be talking about "percentage of basketball related income" and figuring out salary cap structures.  We'll be talking Collective Bargaining Agreement.
Next summer the players and the owners are going to argue about money. Splitting up your money and my money, but money none the less. It will not be pretty.
A large new stream of revenue might help offset that some… say advertisements on the front of jerseys. As is done in soccer worldwide, as was done by some WNBA teams last season.
I heard the groans. Bash the idea all you want, the English Premiere League alone made $155 million this season on those ads, according to Advertising Age. There are some NBA owners who see it as the future.
"It's definitely on the horizon," Mark Cuban, owner of the National Basketball Association's Dallas Mavericks, said in an exchange of e-mails with Advertising Age. "I think it's more an issue of 'how much' rather than 'if' [it happens]."
The EPL is one of the world's elite soccer leagues, but it is also a sport without timeouts to slip in commercials. The revenue is certainly needed.
What would it take to get it done in the NBA?
Mr. Cuban agreed, saying "Find me a multi-year deal at $10 million or more per year and I will make it happen."
As you might expect, the official NBA statement was more cautious — but not all that cautious.
"We are always watching the WNBA and the NBA Development League to see what works and what may be an applicable business practice, and we fully recognize that the presence of corporate branding on game uniforms is a widely accepted practice on the global sports landscape, particularly in soccer," NBA spokesman Mike Bass said. "That being said, the value proposition to include branding on the NBA game uniforms has not yet presented itself."
This year's NBA champion will not have Bank of America or Herbalife or Chico's Bail Bonds splashed across their chests.
But a decade from now…