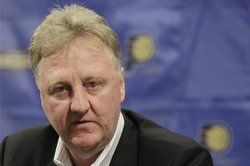 Say this for Dan Gilbert — he went big when trying to get a new coach this summer.
Granted, he needed one to provide some hope retaining LeBron James, but he went all out. There was the failed run at Michigan State's Tom Izzo.
Then there was a run at Larry Bird, according to Marc Stein of ESPN.
Sources close to the situation have confirmed that, before naming Scott as their new coach July 2, Cleveland officials thus contacted Bird to see if they could convince the Indiana Pacers' team president to consider returning to coaching.

Bird did take the call, sources said, but quickly informed the Cavs that he had no interest in coaching again. Sources said Bird, 53, let Cleveland know that he wants to continue in his front-office work with the Pacers and that he has all but ruled out coaching again because of health and family reasons.
Interesting, and worth the call. Bird spent three years behind the Pacers bench, winning 68.7 percent of his games. He was named Coach of the Year (he's the only person to have an MVP and COY award) and in his last year they made it all the way to the NBA finals before falling to the Shaq/Kobe Lakers.
The Cavaliers still landed a quality coach — and one well suited for the rebuilding process — in Byron Scott.