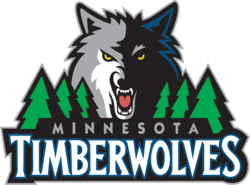 Be careful about taking much away from preseason games. Backups get major run, coaches are experimenting, only the guys fighting for jobs are really motivated.
But one thing we can take note of from the Minnesota Timberwolves first preseason game (against the Lakers in London), the starting lineup:
Luke Ridnour, Wesley Johnson, Michael Beasley, Kevin Love and Darko Milicic.
That's a tall lineup for Kurt Rambis, essentially playing the 6'7″ Johnson (a rookie) at the two. He had a good outside shot in college (he hit 41 percent of his threes) but this is a different position and a different level. This may well be a preseason experiment, but Rambis studied under Phil Jackson and he loves long, tall lineups.
This lineup makes Michael Beasley a three, playing out on the perimeter. Which is a bad thing, but Minnesota seems committed to it. (Yes, Beasley had a good game in this preseason contest against a disinterested Lakers defense, but I will take a couple years observation over that. A lot of commenters/emailers disagreed with that linked post, saying Beasley can play the three — I stand by my post. In Miami Beasley was better at the four. This Minnesota experiment only works if Beasley changes and steps up his game wing. It is not just me — I asked a few people, including scouts, if my perception of him was correct and to a man they said Beasley struggled on the perimeter. Unless that changes, forcing him to play on the perimeter will be a problem.)
The good news? This tall starting lineup for the Timberwolves should be a force on the boards. But on the flip side it seems to highlight a disconnect between the what the management thinks it is building — GM David Kahn said the teams should run — and the reality on the ground of how the team is built. That is a not a running lineup.
We'll see if this is where the Timberwolves are with a starting lineup in a month. But for one game on another continent, the Timberwolves looked good against the Lakers.