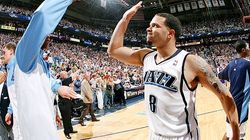 Last season: 53-29, they won the Northwest division and got four seed in the West. Then Mehmet Okur went down the first game of the playoffs. The Jazz still got by the Nuggets but the Lakers proved to be too much in the second round. (Which is probably exactly what happens if Okur is healthy.)
Head Coach: Jerry Sloan, who I think has been in Utah since the days of Joseph Smith, Jr.
Key Departures: Carlos Boozer, Kyle Korver, Wes Mathews, a sense that things will be the same in Utah.
Key Additions: Al Jefferson, Raja Bell, draft pick Gordon Hayward, a sense of hope that Jefferson can make the Jazz better.
Best case scenario: Another good regular season, the team really gels in the playoffs and they make it all the way to the Western Conference finals. Then Deron Williams is so excited he announces he wants to sign an extension in Utah.
For that to happen: The second part of that is not going to happen, at least not that way. Deron Williams has not gone public the way others have this summer, but both sides can see the next contract looming as a future issue. Williams is under contract this season and next, with a player option for the third year. There are a lot of questions — including what the new CBA looks like — before we talk about Williams leaving Utah, but if he feels the franchise is not committed enough to winning next season could be about where he goes.
As for this season…
Al Jefferson is going to have to fit his game into the Jazz system. Which is no given. Jefferson got 56.8 percent of his shots last season getting the ball in the post, while only about one time a game did he set the pick in the high-screen. Jefferson shot pretty well when he did set those picks, but it is not something Minnesota used him to do often. Jefferson also did not get many points in transition, something Boozer did quite well.
The Jazz get a lot of shots at the rim — they were third in the league in shot attempts at the rim per game last season at 31.3, and they shot a very good 63.5 percent on those — but they do it more through cuts and a motion offense than traditional sets. Like a post up.
Jefferson can certainly play the Utah — err, we mean Sloan — way, but it could be an adjustment. We also have to see how Jefferson fits in once Okur returns. To start the season Jefferson will be more of an Okur replacement than a Boozer replacement.
That will mean more Paul Millsap, which is good for everyone. He'll need to grab more boards (a strength of Boozer) and continue to score efficiently in more minutes. This is a guy who deserved a big chance and now it is here.
It's a lot easier for Jefferson to fit in when you have Williams as your point guard. He is the perfect guard for the Jazz system — he can drive the lane, knock down the three, has great floor vision and a nearly 3-1 assist to turnover ratio. Every team game plans to stop Williams, nobody does it. So long as the Jazz have him, they will be good (which brings us back to keeping him).
Hayward has a lot expected of him as rookie, essentially having to step in and take over the Korver designated shooter role. That's a lot to ask of a kid making a big leap in competition level. Raja Bell will bring the "threes and D" energy off the bench, but at age 34 entering his 11th season in the league you know what you are getting (and you may get a little less of it).
As always, the real X-Factor with the Jazz is Andrei Kirilenko. When he is healthy he is a game changer, a high-flying shot blocker who can drain the three. He stretches the floor, gets to the line and is generally a matchup nightmare for everyone else. But he has missed nearly a quarter of the Jazz's games the last two seasons ad played in just two playoff games last year. Without him they are much easier to match up with along the front line — and with a big expiring contract ($17.8 million) he could be moved anyway to save money (he was almost part of the Carmelo Anthony four-team deal). Basically, the Jazz can't count on Kirilenko to be there for them all season.
More likely the Jazz will: Be a little bit worse than they were last year but basically what they have been for a long time — good but not quite good enough. Jefferson will be close to a wash for Boozer, but Bell and Hayward will be a step back from Korver and Mathews. The Jazz will be entertaining, play pretty basketball, but not be contenders. Williams will amaze, Jefferson will be a nice fit, Kirilenko will show flashes but disappoint, Millsap will hustle, the rookies will play like rookies, Bell will be solid but not fantastic.
They will hover around the 50-win mark, maybe win in the first round (depending on matchups) then be out by the second round.
Prediction: 48-34, with a six or seven seed in the West. A tough first round matchup for someone.