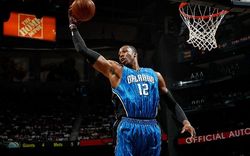 While NBA referees have been instructed to call touch fouls on the perimeter, the game inside the paint is as physical as ever. Strong centers who play through the contact get beat on in ways that would send smaller guards flying to the floor. The guards get those calls, the centers only sometimes.
That frustrates Dwight Howard, who seemed to take the lack of calls as a sign of personal disrespect — and he let the referees know about it. Last season Howard picked up 15 regular season technical fouls (one short of the number that gets you suspended for a game) mostly for complaining to officials.
This season, the NBA has said it is cracking down on complaining — things like throwing your fists in the air after a call or showing the ref how you got hacked will get you a technical. And the fines for that will be doubled, too.
Message received. Howard says he is going to mellow out. Or at least stop showing his emotions so much, according to the Orlando Sentinel.
"I'll be fine," Howard said. "My teammates have asked me to do a better job of not getting frustrated, not showing so much frustration."
Easier said than done. But Howard is at least saying it.
It will also be interesting to see how the NBA's crackdown plays out over time — the league often says it is cracking down on something at the start of the season only to have everything back to normal by the All-Star break.
As Rashard Lewis points out, the other interesting part will be what the referees do at the end of close games when emotions are high.
"You put your hands in the air after a charging call and they call a tech? That's like taking the game away from you," he said.