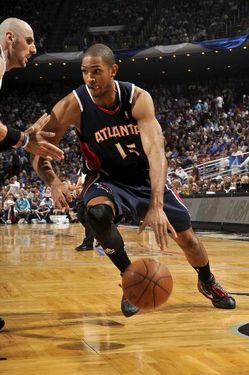 Between now and Nov. 1, Al Horford is going to become a rich man.
Well, he's already pretty rich by most standards — he is set to make $5.4 million this season — but he is about to get richer, get rich by NBA standards. This year is the last year of his rookie deal and he and the Hawks are negotiating an extension, according to the Journal Constitution. It's amicable, usually a good sign the two sides can reach a deal.
That's just going to add fuel to Jamal Crawford's fire. But that is a very different situation.
Horford enters his fourth season an All-Star who put up 14 and 10 for the Hawks last season. He is one of the better inside players in the game today. Sure, he took some lumps after trying to slow Dwight Howard in the playoffs, but that is a bad matchup for him (and most people). He was not the biggest problem for the Hawks that series.
Larry Drew recognized that though and has talked about Horford at the four with Zaza Pachulia or Etan Thomas at the five for stretches.
Wherever you put him, Horford is at the heart of the Hawk's future.
But the real question is how much he will get paid. The Hawks just gave Joe Johnson a six-year max deal. Rudy Gay was given the same max that Horford could get (five years, $82 million). In that market, what is Horford worth? If not max we'd think he's making eight digits a year.
It will be interesting to see what number the two sides settle on, but there is no reason to think they won't find a number together.