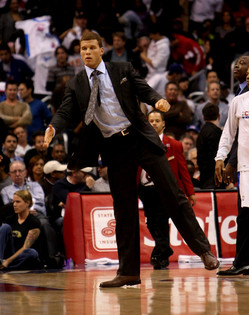 On paper, the Clippers are a good team.
All of us not named Clipper Daryl are tempered in our enthusiasm, based on history. And a deep Western conference. But you can see why there would be optimism, we just need to see it on the court.
Craig Smith has seen that optimism on the court, and it is named Blake Griffin, as he told the Los Angeles Times.
Smith was asked if Griffin was 98.9% back after having missed all of last season because of a stress fracture in his left kneecap.
"159.7531 percent," he said, smiling. "Blake's looking real good. He's determined. I'm happy for him. Happy he's back on the court. You know he's going to do some special things this year…

"I can say this. I never played against Karl Malone," Smith said. "But he has the strength of Karl Malone but can run and jump like LeBron James.

"He can definitely make LeBron plays, defensively. Out in the open, he can make something special happen. He's kind of like a specialist. He has the best of both worlds. The physical strength, the power and he can run like a deer.

"I wouldn't be surprised if he was running a 40-yard dash with a car in the way, if he wouldn't hurt the car versus hurting himself."
Remember that in a draft that gave us Tyreke Evans and Brandon Jennings and Stephen Curry, Blake Griffin was the sure thing first pick. Hands down the best player in that class. We just forget because we didn't watch him play, but this year we will and things should be different.
But it's the Clippers, we need to see it on the court.