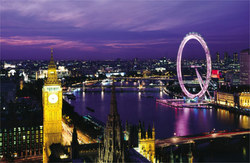 There is enough chatter out there in the intelligence community that the United States warned travelers about potential terrorist attacks in Europe today.
Right as the Lakers, Knicks and Timberwolves are touring that continent of a preseason, game globalization trip. The Lakers and Timberwolves are in London, the Knicks in Milan. The Lakers will travel on to Barcelona.
Those trips will not stop, several team official told the Associated Press.
"The NBA is staying in contact with the U.S. embassy, the CIA and Scotland Yard," Lakers spokesman John Black said. "They are keeping us informed of the situation."

In a statement e-mailed to The Associated Press on Sunday, Mike Bass – the NBA senior vice president for marketing and communications – said the league is "taking all appropriate security measures" for the trip.
League commissioner David Stern is also in Europe as part of all these events. He and other players have been warned and they get additional security when they leave the hotel.
For Pau Gasol, this is not going to slow him down.
"I've been out of the hotel as much as possible," Gasol said. "(London is) a great city to be out and walk around in, and experience things. It would be a crime to stay at the hotel."