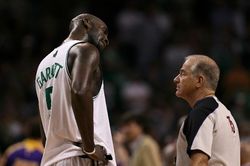 We now know it is a two-step process to try and reduce arguing with referees about calls.
Step one we learned last week, that NBA referees have been instructed to put up with no guff and give a technical to anyone who makes an "overt gesture" to question a call.
Step two — hit them in the pocket book.
The NBA is doubling the standard fines that go with various offenses, as reported by Associated Press.
For the first five technicals a player (or coach) gets it is $2,000 each. The second five set you back $3,000 each, while 11-15 mean you write a $4,000 check. Get technical numbers 16, and you are suspended one game (and get suspended again for every two techs after that) and each one costs $5,000.
This will be good for NBA charitable causes (which is where the fine money goes), we'll see if it is good for the on-court product.