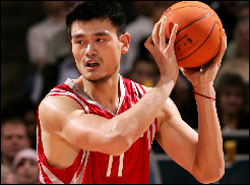 Yao Ming does not have a contract for next season. Nor does Shane Battier. Or Chuck Hayes. Jordan Hill and Courtney Lee's deals are at the team's option. Aaron Brooks did not get an extension and is pretty ticked about it.
The Houston Rockets are not giving out extensions to anyone, as GM Daryl Morey told FanHouse.
"With the uncertainty of the CBA and our team and in terms of where we go, just what we get from Yao Ming this year is a huge factor in terms of how we're planning our team," Morey told FanHouse. "We just aren't doing extensions."
There is no collective bargaining agreement for next season and a lockout is very likely. (For a good primer on the issue, check out CNBC's Darren Rovell.) The Rockets have made a business decision — and not a bad one. Offering Yao Ming an extension right now would be foolish. They have set down their blanket policy.
But it has the effect of making this a now-or-never year with the Rockets and this roster.
NBA rosters need to be built around the stars that can win you games. Morey inherited his — Yao Ming and Tracy McGrady. So he started with his hands behind his back. Or his leg and foot in a cast. However you want to look at it.
What he did around that was put together a really good roster of role players Brooks, Battier, Luis Scola, Kevin Martin, Hayes and Chase Budinger. That's a very nice roster looking for a star to lead them.
But with so much of the roster set free at the end of the season, there is no way this group gets back together as is. Roster turnover in the NBA is inevitable, but the Rockets have set themselves up for a big shakeup. If Yao isn't right, they need a big shakeup.
They have a chance to be very good this year. That all hinges on Yao and how he bounces back — if he is once again the best center in the game the Rockets are the second best team in the West. A team that creates matchup challenges for the Lakers. A team that you'd want to bring back…
Now or never.