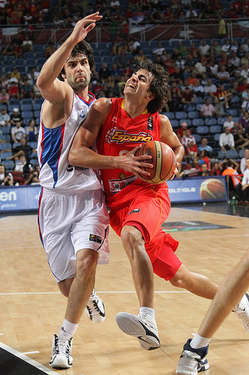 The Minnesota Timberwolves are in Europe, too. Think of them like the first opening act at a huge stadium concert, the band that comes on before the Knicks and then the Lakers take the stage. The band you kind of hear while you are still tailgating in the parking lot.
But the Timberwolves have a huge European connection, too. No, not Darko.
The Timberwolves have the rights to Ricky Rubio.
Rubio chose not to sign with the Timberwolves, instead inking a deal with Barcelona to stay in Europe for now. However, next season Rubio could come stateside. And while there Timberwolves owner Glen Taylor wants to make that happen and…. well, we'll let Alan Hahn at Newsday explain.
Reports out of Minnesota say Timberwolves owner Glen Taylor is trying to get Ricky Rubio's parents to meet him in Paris, where the Wolves play the Knicks on Wednesday, for dinner so they can discuss their son's plans for the NBA. Apparently, The Rubios aren't interested in having dinner with Taylor and the T-Wolves.
Rubio could come to the NBA next season, but with the looming labor situation and a lockout possible (if not likely) don't be shocked if Rubio decides to stay in Europe another year or two. Also, if he stays there long enough he would not have to come to the NBA under the rookie salary scale (something Tiago Splitter avoided).
But when he does come to the NBA, you can bet he'd rather do it in New York than Minnesota. I wonder if Rubio's parents would meet with Mike D'Antoni and the Knicks?