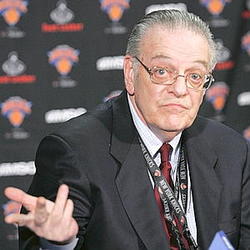 Donnie Walsh has spent three years now pulling the Knicks franchise out of the hole it had dug itself. The hole that collapsed and trapped them. Even the notoriously impatient New York media got it and Walsh got a largely free pass because he was doing ugly work that had to be done.
Now they are out of the hole and enjoying the light again. But Walsh is not leading this team for many more years. His contract is up at the end of this season, and even if he and the Dolan family work out an extension it will not be a long one.
When Walsh does leave, he wants Chris Mullin to take over, he told the New York Daily News.
"If I could hire anybody Chris would be the guy," Walsh told The News. "That's who I want."
Former Knick Allan Houston is currently Walsh's right-hand guy. There is no plan to hire a GM right now under Walsh, but if that changes Mullin would be in the running.
Mullin was the general manager of the Golden State Warriors, and had a mixed bag of results. However, it's a little tough to judge the quality of his work when owner Chris Cohen was cutting him off at the knees, and coach Don Nelson was at loggerheads with him over team direction. Mullin, long term, sounded like the sane voice there.