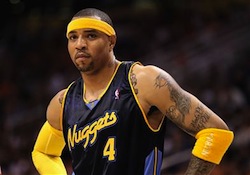 A lot of guys got contract extensions this summer. Kenyon Martin was not one of them. What he did get was knee surgery.
And he's pretty ticked about it. Check out these comments to FanHouse's Chris Tomasson:
"(It is) my last year of my deal. We all know it. Ain't nobody in a hurry to give me (another) one. So I'm not going to be in a hurry to come back and risk it. Think about it. Ain't nobody in a hurry to give me a contract, so why would I be in a hurry to rush back and risk further injury? It makes all the sense in the world. I've thought about it."
The Nuggets did give money this summer to Al Harrington. Martin got none of that.
He says it could be a couple of months until he gets back. He realizes he is playing for a contract now and he wants to be healthy, not go out and struggle because he is still injured. Martin is going to take his time.
And there is not much the Nuggets can do about it (unless they trade Melo and then decide to rip the team apart). The Nuggets need Martin and his energy along the front line if they have any dreams of making a run. But it's a business and that side comes first.
Which is why Martin will take his time coming back.