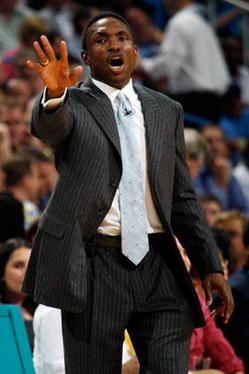 Rome wasn't built in a day, and neither was Newark. If the Nets are going to build something on the ground charred by their '09-'10 season that went up in flames, it's going to take some time.
New Jersey's significant roster upgrades from this offseason are a good start. The Nets now have the raw materials to put a proper framework in place, but it's still up to Avery Johnson to engineer a creative way to arrange all the pieces. His job won't be easy, and while Johnson's vision and persistence will be crucial in his role as team architect, Avery's most valuable attribute may be his patience.
Improvement should be expected, but the pace of that improvement is anything but certain. The new Nets will take to some aspects of Avery's game plan quickly, but with some of his more complicated stratagems? Especially on the defensive end? It could take some time.
In a situation like this one, reasonable expectations are essential, and Avery seems to have that part of the job under wraps. From Al Iannazzone of Nets Insider:
"The guys are very attentive and coachable," Johnson said. "We have
a chance to be a decent, decent defensive team. We have a chance. We
still don't take enough charges. We don't block enough shots, but we'll
get there. We have a chance."

"Everyone has their certain talents on the offensive end: we've got
shooters, slashers and guys who can score in the paint," Lopez said.
"We all know our roles offensively. It's really defensively where we
needed to pick up.

We've spending most of the time in training camp on the defensive
end, learning rotations, learning our help-side and stuff like that.
That's where the roles aren't as well-defined."

Johnson's camp isn't over yet. The Nets still have plenty to learn.
These Nets aren't the pre-constructed Mavericks that Avery was handed in 2005. They aren't a group of veterans with an established star, or a team with any kind of identity or direction, really. Much of that will be up to Johnson and his staff, who will look to instill New Jersey with a new defensive focus.
Easier said than done, obviously. Avery will look to make his mark on this franchise from game one, but his job will be far from done even by game 82. Such is life for the coach of a young team, and a newly formed one at that.