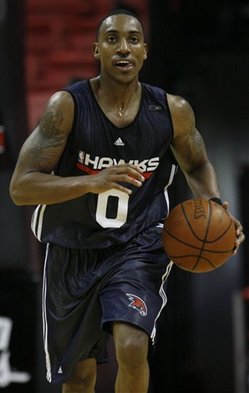 Nick Van Exel always played with a chip on his shoulder.
Atlanta wants the same thing out of Jeff Teague, the backup point guard they hope will supplant Mike Bibby. From Summer League through camp, everyone has been in Teague's ear about being more aggressive.
Now it's Van Exel's turn, as he told the Journal-Constitution.
"We call it 'the dog' in the NBA," Van Exel said. "We are trying to bring that dog out of him."

"He's kind of a quiet kid," Van Exel said. "He likes to joke around and have fun. But there are times when somebody makes him mad, and he is just blowing by guys. And we are like, 'Man, you've got to do that all the time.' He can do it. He has those skills. We are thinking about maybe going up to him and making him mad before every game, making up stuff just to get him going."
Van Exel was hired this summer as the Hawks Player Development Director. But what Van Exel is telling Teague isn't something Joe Johnson already hasn't. Everyone has been telling Teague that.
Teague is an X factor for the Hawks this season — the team brought back almost an identical roster from last season. If they are going to get better players already on the roster need to step forward. Al Horford could do that. But Teague is the guy who could make the biggest leap, and at a position the Hawks need it most.