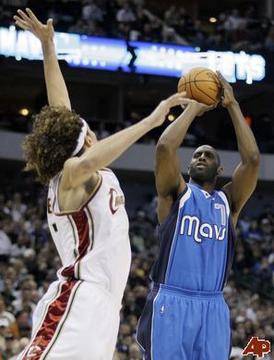 The Dallas Mavericks have waived Tim Thomas. He played just 18 games for the team last year and will not be with the team this season as he attends to a family situation that takes priority.
But he wants to be back next season, he told Zagsblog.com.
"I'm definitely planning on being back next year," Thomas, a Paterson, N.J. native who spent one year at Villanova, said Wednesday by phone.

"The situation is that my wife [Tricia] has a few things that she has to take care of. Just the timing was bad. I don't want people to think she's on her deathbed or anything like that. She had some things to take care of and she just wanted me to be home [in Los Angeles] when she had to go through them."
Thomas is a 13-year NBA veteran coming off knee surgery, but there are teams that would be interested in a floor-spreading big man who is a stable influence in the locker room. He's going to have to prove he can still contribute, but if he can there is still a roster spot for him on a contender.