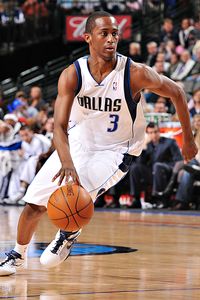 Over the summer, the Dallas Mavericks shot for LeBron James, but fell short. They tried for Dwyane Wade, but no dice. Then came Joe Johnson, but he wasn't interested. They altered their plan of attack and were linked to Andre Iguodala and Al Jefferson in trade discussions, but the Mavs couldn't get a deal done.
Erick Dampier's "instantly expiring" contract was the currency through which the Mavs hoped to accomplish all of this, but it couldn't fetch any of those talents. Instead, Dallas traded Dampier — along with Matt Carroll and Eduardo Najera — to the Charlotte Bobcats for Tyson Chandler. Tyson. Chandler. He's a serviceable center in his own right, but considering just how highly the Mavs had valued Dampier's cap-clearing deal, he wasn't quite the bounty they were looking for.
As such, Dallas will have to improve from within if they're to go deep into the playoffs this season. Some of that improvement will likely stem from Caron Butler and Brendan Haywood's familiarity with Rick Carlisle's system; both players were acquired at last season's trade deadline, and while they played reasonably well for Dallas through the end of the '09-'10 season, neither was a fully integrated part of the Maverick game plan. Butler and Haywood are now a bit more comfortable, and Coach Carlisle a bit more in tune with each player's strengths. That's not quite the same as acquiring an additional star, but it should give Dallas a boost.
Still, even when taking Butler and Haywood's improvement within the system and Chandler's addition into account, the Mavs don't look to be all that much better than they were last season. To make matters worse, most of Dallas' other regular contributors are more likely to see slight drops in their production rather than increases, as age begins to catch up to this cast of vets.
No one in the Mavericks' rotation is going to see their performance take a nose dive on Father Time's account. Not yet, anyway. The Mavs aren't getting any younger though, and they're not going to make any significant jumps from the wrong side of 30.
There are two notable exceptions to the Mavs' veteran rule. The first is Dominique Jones, Vegas Summer League standout and the No. 25 pick in this summer's draft. Jones is relentless in his drives to the basket, and that skill alone could score him some playing time despite the Mavs' depth on the wings. The other exception is Rodrigue Beaubois, the now second-year guard who changed games for the Mavs last season with his speed and shooting ability.
Beaubois is incredibly talented, and many consider him the key to the Mavs' season. If Beaubois can tap into his abilities and take a step toward basketball self-actualization, Dallas' inability to acquire another star during the offseason could be a moot point. Beaubois has the potential to be that good.
Of course, with so much hinging on Beaubois' development, it's only fitting that his progress would be stalled by injury. A broken bone in Beaubois' left foot has sidelined him since early August, and the status of the Mavs' great hope for the season opener is unknown. His foot is getting better and better though, as Jeff Caplan of ESPN Dallas reported from training camp:  
…the young Dallas Mavericks guard is showing daily signs of improvement in his recovery from left foot surgery, coach Rick Carlisle said Thursday.

"He's not doing anything on the court yet except some spot shooting and then the [stationary] bike in practice," Carlisle said. "Then we bring him back [to the American Airlines Center] and he walks and runs in the underwater treadmill. But, he's getting a little better every day and at the right time he'll be back into it."
Beaubois is out of his protective boot, and committed to working hard through camp in spite of the limitations of his injury. He'll bike, lift, and watch film to prepare for the coming year, in the hope that whenever he's finally cleared by the team doctors, he'll be physically and mentally ready to compete. Luckily, Dallas has the depth to buy Beaubois all the time that he needs, and the Mavs will no doubt be cautious in calling for Rodrigue's return to the court. There's simply too much at stake for the Mavs to rush this.