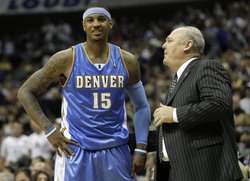 George Karl and Carmelo Anthony finally had a sit down, face-to-face conversation. The two guys that, one way or another, will most determine just how far the Nuggets go this season.
Karl's words — focus on this team, this season. Not trades or the summer. Be present, because this Nuggets team could be good. Anthony got it. (Quotes from tweets of Chris Tomasson of FanHouse)
"He didn't try to work me over. He just wanted me to really focus in and told me that he's looking for my leadership skills and what I've been doing in training camp he's been satisfied with."

"It was cool. It was my first time talking to him basically the whole summer face to face. We reflected back on last season. He told me what he was looking for… this season."
These Nuggets could well be good, right in the middle of that second tier in the West (the Lakers have their own tier in that conference). This team made it to the Western Conference finals two seasons ago and that is a good goal for this team again. It's what Karl has put out there.
But if the season becomes the "where is Melo going?" circus, then all bets are off. There will be a certain amount of it that is inescapable (wait until they travel to Madison Square Garden), but how much Anthony and the Nuggets let that in the locker room determines how this team plays out this season.
Well, at least until the Denver front office figures out what it wants and trades him. That's assuming they can find a partner when they do get it together.