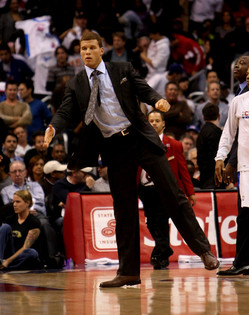 Out if sight, out of mind. We didn't see Blake Griffin in one NBA game last season as he recovered from knee surgery, so…
The guy is still very, very good. He went No. 1 overall for a reason. Do not forget that. He is back and already wowing teammates in camp, as Eric Pincus reports at Hoopsworld.
"They have to tell him to slow down and not work as much," said [Chris Kaman] Clipper center.  "If you let him go he'll run himself into the ground.  He just loves it and eats it up.  He's a special player with his athleticism and strength and very explosive.   I know I'm saying a lot but I'm looking for big things out him."

"Blake has really made a jump just in terms of being a basketball player.  I think the game has slowed down for him a little bit, relative to where it would have been a year ago," said [Clipper GM Neil] Olshey.  "I think a year ago he relied on his athleticism and physicality and I think now spending a year working on his jump shot, his ball handling – I think he's going to be a matchup nightmare.  I know he's anxious to get going."
At rookie photo shoot day, this year's rookies remembered that he is still in the running and voted him second on the "most likely to be rookie of the year" ballot (behind John Wall).
In preseason games last year, in team scrimmages, Blake was the best Clipper player. Then came the injury. If he is past it, both physically and mentally, the Clippers could have something special.