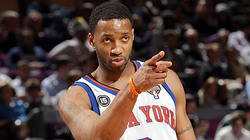 You may want to believe, but until we see evidence on the court that Tracy McGrady is right you have to think of him as still damage goods.
Tracy McGrady likes to push himself pretty hard (all the great ones do) but has had to pull back at Pistons camp and made the following comment to the Detroit News:
"Can't put the knee aside, that's the major issue," he said. "If I didn't have any problems with my knee, I would be myself."
Meaning he is not himself. Hasn't been for a while. Which is unfortunate for all of us remember what he was and what a joy he was to watch.