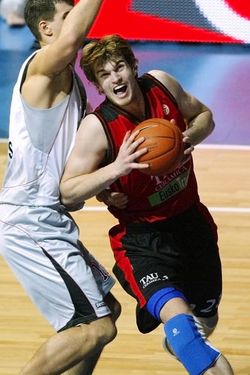 Technically, Tiago Splitter is an NBA rookie. He should be getting donuts for the vets and carrying luggage.
But Splitter is a veteran of the top European league, he's been the best center on the continent for a couple years. He has played in world championships. Don't confuse him for some raw 19-year-old who sleepwalked through a year of college ball.
Just ask Antonio McDyess, the veteran whose minutes Splitter could take. The San Antonio News Express did just that.
"He's really good," McDyess said. "He's really strong and posts up strong. He goes hard every play."

Many Spurs players struggle in early practices because of Coach Gregg Popovich's demanding offensive and defensive philosophy. But Splitter was a quick study, according to McDyess.

"He catches on quickly," McDyess said. "I was surprised how quickly he caught on. This is a tough system to learn and he was catching on."
Splitter is not walking in the door an All-Star, but he is walking in the door an upgrade at the five. He makes the Spurs better, and he'll make Tim Duncan better.
A lot of things have to go right for the Spurs to dethrone the Lakers. Pretty much everything for the Spurs and the Lakers need to take a step back. But Splitter at the five is one thing that can have people dreaming a little along the Riverwalk.