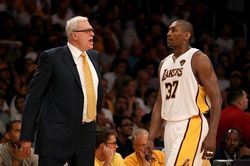 Personally, a trip to London and Barcelona sounds pretty good. I could go for one of those.
Phil Jackson? Not so much. Actually he might really enjoy such a trip if it was just him and Jeannie Buss, but in the middle of training camp? This is what he told ESPNLosAngeles.com's Dave McMenamin.
"This training camp is kind of a bust," Jackson said. "You just have to try to do the best you can in this training camp. We'll try to incorporate these new players, embrace them, educate them in what we do [but] we don't anticipate in the first two weeks that we're going to gain any ground, so to speak."
The Lakers are one of the NBA's showpieces. They have Kobe Bryant, a couple shiny new Larry O'Brien trophies and a huge fan base overseas. Jackson is set in his ways — Jerry Buss would host Laker training camp in Hawaii every year if he could, but Jackson is good with El Segundo and the Lakers training facility. So El Segundo it is.
Except for the stops in Barcelona (to take on Pau Gasol's old Barcelona squad) and London this year. Which makes it all a bust. I guess. Somehow I think the Lakers will be just fine, what with a returning veteran team running the same system and all. Just a hunch.