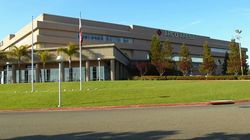 In the past few years, the Maloof brothers (owners of the Kings) have been able to pull back from the messy politics of getting a new arena built for the Sacramento Kings. That's because four years ago David Stern himself said he personally and the NBA offices would work to get a deal done.
Last week, the Cal Expo board voted not to pursue a City Council backed deal that would have leveraged the land in the city to build a new sports arena and complex plus turn the current ARCO Arena site into new fairgrounds for the Expo.

Now the NBA is done leading the fight, according to the Sacramento Bee, which learned of this through an email from league officials.
"On the heels of the disappointing – but not surprising – action (or inaction) of the state and Cal Expo board, it is fair to say that the NBA has ceased its activities on the Sacramento arena front," league representative John Moag said in an e-mail to The Bee. "However, we will continue to monitor and respond to the activities and options of others that might reasonably ensure the competitiveness and viability of the Kings' franchise." 

Back in 2006, Sacramento voters shot down an idea to raise the city sales tax to pay for an arena. That sparked the NBA involvement, which evolved into the now dead Cal Expo deal. The Kings are not interested in trying to refurbish ARCO Arena.
Which means it's back to square one. Sacramento has a mayor — former Suns point guard Kevin Johnson — who wants to get a deal done. Several people and groups involved in the Cal Expo deal are coming forward with a new plan involving several properties, which will go public in a month or so.
Meanwhile, the threat of a move becomes more real.
There are NBA ready buildings right now in Anaheim and Kansas City, among other places. So long as they make the announcement by March, the Kings could be playing somewhere else by next season.
This is not good for the fans of Sacramento — a very loyal and deserving fan base. They were one of the loudest, most fearsome road venues in the league a decade ago. But the economics of the NBA have changed to more suites and high-end seating, and ARCO did not change. And unless something comes together soon Sacramento may lose its team.