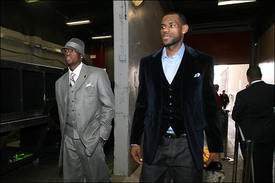 LeBron James and Dwyane Wade have been "The Man" for years, wherever they have been. Their team. Their show. Lead by example not just words.
We don't know much of what has gone on so far at Heat training camp, tucked as far away from the media spotlight and prying eyes as the Heat could pull off, but we do know this:
LeBron and Wade are the leaders of the Heat. Look what coach Erik Spoelstra told Ira Winderman of the South Florida Sun Sentinel.
"It always starts with the high-profile guys, as you would call them, the leaders of the team, and it trickles down from there," coach Erik Spoelstra said. "If they see those guys sweating in practice, really working, quite naturally that's the human condition, everybody else falls in line."

LeBron just seems focused and intense, in interviews and from reports of what the media has seen at the end of practice.
"I'm just focused," James said. "I understand how important this NBA season is for us as a franchise, for me as an individual. So I'm not wasting any time. I'm not going to waste my time or waste this franchise's time and come in here and not get my work on."
By the way, if you wonder why Bosh is not considered one of the leaders…
"Getting back in shape isn't easy," he said. "You can work out all you want during the summer, but when you play basketball and go through drills and constant movement, it's different.