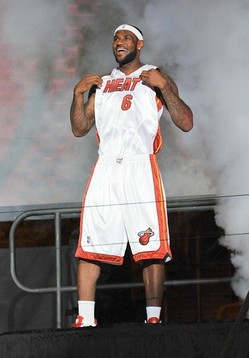 Hey LeBron James, not only do you have to lead your just thrown-together team to an NBA title, can you average a triple-double for the season while doing it?
I mean, Oscar Robertson averaged that in 1962, and today's game is pretty much exactly like that, right? You can totally do it. Hey, but no pressure (via the Miami Herald).
"I look up to Big O so much to be able to do that. Unbelievable feat. I don't believe it will ever be matched. It's very intriguing. You would love to make history, but it's not a goal of mine. My goal is to be a triple threat, not to average a triple-double. I know I can do that."
It's not about the points, James averaged 29.7 last season and while that will come down some it will not be down to less than 10. Last season he averaged 8.6 assists and that could go up with these teammates around him. The 7.3 rebounds per game he averaged last season might be what trips up these plans (only nine players in the league averaged 10 rebounds or more per game last season).
Except they are not really plans. Take LeBron at his word with this — he wants to win first, and will sacrifice whatever stats it takes to get there. He gets that his legacy is on the line now and that anything short of titles will be viewed as a failure.
If James wanted to, if he focused on the personal, he could tie Robertson's record. But that was not what Robertson was about. It's not what James is about either. Whether he can get what he wants remains to be seen.