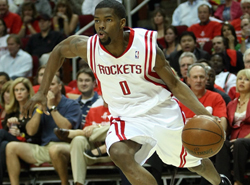 The Houston Rockets really don't do contract extensions. The last non-rookie deal contract extension they did was in 2004 (and that was for Tracy McGrady, which worked out so well).
Aaron Brooks — the breakthrough point guard and guy who just won the Most Improved Player award — thinks he should be the exception. This season he will make $2 million, less than half of his backup Kyle Lowry ($5.7 million). Brooks agent, Leon Rose, is supposed to meet with the Rockets today to talk extension.
Brooks is disappointed he doesn't have a deal in place already, as Brooks told the Houston Chronicle.
"It's kind of stressful," Brooks said. "I was hoping we maybe could get something done this summer, but we couldn't, so I'm stuck in the position I'm in.

"I understand, but it's bothering me. It's the business of basketball. You have to take it like it is. I'm stuck with that."
Brooks is in the final year of his deal and can join a long list of Rockets in the same boat: Yao Ming, Shane Battier, Jared Jeffries and Chuck Hayes. And with a new CBA about to go into place, the Rockets will not be offering big extensions to anyone, according to general manager Daryl Morey.
"We're not doing extensions," Morey said. "Quite a few guys on the team are up for extensions. Just policy-wise, we're not doing it.

"Obviously, every player would want an extension. I don't blame them for that. All we can do is the best for the Rockets. They're doing the best for themselves. Make sure they know the reason we're doing it has nothing to do with how you value the player or anything like that. It's just we're trying to keep ourselves as flexible as possible going forward."
 
NBA salaries are often not fair. It's about the marketplace as much as the player's talent, about the supply and demand at the position when you do sign a deal. Brooks will get more money. But not right now, not from the Rockets.