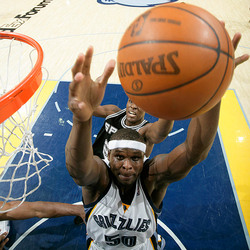 The Grizzlies are happy with Zach Randolph, they really are. Which is a pretty dramatic change from his last couple of stops.
So it makes sense that the two sides have had some preliminary conversations about a contract extension, there is interest on both sides according to the Memphis Commercial Appeal.
But on Randolph's side, they may be a big delusional about the numbers — they are asking for Pau Gasol numbers. Three years, $65 million. For Zach Randolph. Zach has good inside game, but he is not Gasol. For the record, Gasol is far more efficient (shoots at a much higher percentage), passes much better and actually plays good defense. Plus, rings. Pretty, shiny championship rings.
Randolph has value — he scored 19.8 points per game last season for the Griz and had maybe his best career as a pro. He is going to make $17.3 million this season, he needs to accept now the idea of a pay cut next season. He is still going to make good money — big men who can score do — but the new CBA and his value will mean less money.
How much less well be determine by how he plays this season. The Grizzlies are waiting, making sure the Randolph of last season is the one they get this season before making any commitments. Smart.
We'll see how this plays out. It could go a million directions and we would not be surprised.