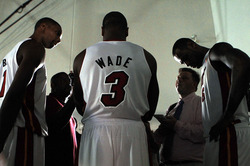 So how do you get to the Heat's secluded training camp in the Florida Panhandle?
Well, from most places, you get there by connecting through Atlanta.
And then, from the airport, you get there by driving past one Waffle House, then another, and then another.
But that actually doesn't get you anywhere, at least not onto Hurlburt Field, the Air Force installation the Heat is calling home this week.
No, instead, if you're with the media, you pull across the street to a dirt road by the paintball field and await a school bus that takes you inside the gate.
Inside, the massive complex has the feel of a college campus, albeit one with vintage jets and helicopters featured along the front gate.
But this is no ordinary campus.
So from the school bus you are ushered into a waiting room.
From there, there is one bathroom break. Women line up first, then the men.
Even though the rest room is mere steps away.
You never lose sight of where you are.
And don't even think about misplacing your security badge, the one received only after your secret, personal code is entered.
From there, the courteous staff escorts the media into the gym, where it waits until it is eventually escorted back out.
No this is not Palm Beach Community College or Florida International University or the University of Miami, places where the Heat previously has held training camp.
And it's certainly not the Jewish Community Center just north of Miami, where the senior citizens would walk on the track above as then-coach Ron Rothstein would attempt to conduct practice below.
But it is a unique and refreshing change of pace from what typically is experienced at this time of year.
And invigorating.
Because even with this talented a cast, training camp still is training camp, where the Patrick Beverleys, Kenny Hasbroucks and Shavlik Randolphs take rotations with the regulars.
To see how much hosting the Heat meant to those on the base was to experience what sports were intended to be all along.
A welcomed relief.
In a unique season, the Heat has offered a unique way to start.
And the waffles aren't half bad, either.
Ira Winderman writes regularly for NBCSports.com and covers the Heat and the NBA for the South Florida Sun-Sentinel. You can follow him on Twitter at http://twitter.com/IraHeatBeat.