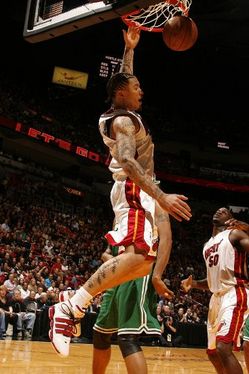 Reports out of Timberwolves camp say that Michael Beasley is playing the three spot, according to the Pioneer Press.
Which makes some sense when you think Kevin Love needs to be the starting power forward for Minnesota.
Except… Maybe the T-Wolves should call up the Heat and ask how Beasley worked out at the three for them.
The Heat used Beasley a lot at the three and found he was not really athletic enough to hang at that spot. The numbers bear this out. Beasley shot 40.3 percent (eFG%) while playing the three, but 47.3 percent at the four. The Pioneer press describes him as "smooth shooting" but he's going to need to be smoother — he shot 32 percent from 10 to 15 feet last season and 39 percent from 16 feet out to the arc (and he took more of these long twos than he did shots at the rim). His PER was much better when he played the four. He was a much better defender at the four.
Get the picture? It wasn't an accident the Heat moved him to play power forward more.
Beasley fools you because he's really a tweener, so you think he can be a big three who is going to do great things. But so far, that has not been the case for him. Unless there is a change in his game, unless he finds the three inside him in Minnesota, this could be a failed experiment.
But then again, this is the Wolves, they should be doing some experimenting to find something that works. Maybe they need to give Beasley some room to run at the three. But they should be prepared for the same answer Miami got.