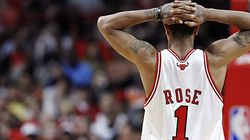 Derrick Rose has serious game. He has the work ethic. He knew the biggest hole in that game was a consistent three-point shot, so he spent all summer working on it.
He was certainly more confident with the shot at the FIBA World Championships. Of course, he only hit 27.5 percent of his threes (from the shorter international mark) so he's still got something to prove to NBA teams. But you could sense his confidence.
Our point here is that Rose believes in himself. Look what he told the Chicago Sun Times.
"The way I look at it, why can't I be the MVP in the league? Why can't I be the best player in the league? I don't see why not.

"I work hard, I dedicate myself to the game and sacrifice a lot of things at a young age, and I know, if I continue to do good what I can get out of it. If that's me going out and doing whatever, I'm willing to do it because in the long run I know it's gonna help me."
The main reason he can't be the best player in the league? LeBron James, Kobe Bryant and Kevin Durant are still in the league (and in the case of Durant will be for most of Rose's career).
Seriously, if Rose can lead this Bulls team into serious title contention, if he can be the focal point of a resurgent Bulls team in a major market? He will get consideration. Maybe serious consideration.
And none of it is going to happen if he doesn't believe in himself. So we have a start.