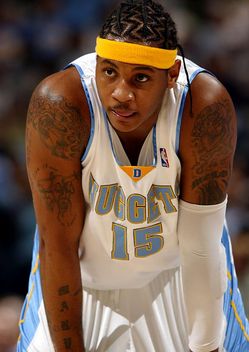 Whatever state of limbo it may be in, the trade talks for Carmelo Anthony are not dead.
The best sign of that: Denver did not ask him to participate in any of the team's promotional filming on media day.
We all read the quotes about the upcoming season on media day, but another part of it is the team getting a lot of its promo work done. You know those little bumpers on your local Fox Sports/Comcast team broadcast where Andrew Bogut palms the ball and holds it out right in front of him, or Brandon Roy dribbles it a couple times while looking at the camera? Shot on media day. This is also when the radio bumpers are done, some team promotional photos are taken and so on.
Anthony did none of that.
Which means he Nuggets are still at least contemplating a trade still. The status of that trade is still up in the air. Adrian Wojnarowski of Yahoo reports that the Nuggets and Nets are trying to get two new partners in a four team dance after the Nuggets balked at a deal with Charlotte and Utah. That deal would have brought them good talent but had them $4.5 million over the luxury tax line (with the dollar-for-dollar tax that would be a $9 million payout).
That seems confusing however — the Nuggets would have had time to trade players like Chauncey Billups to find ways under that number. But the Nuggets have seemed of two minds on this trade all along — some in the organization wanted to pull the trigger while others want to bring Anthony in and see if Billups and coach George Karl could change his mind. They \ want young talent back in the trade but also want to shed bad contracts in it as well. Basically, they want everything.
One thing consistently being said now is that nobody else around the league knows who is the decision maker, who to contact on the Nuggets. Is it new general manager Masai Ujiri? Is it soon-to-be owner and front office guy Josh Kroenke? Is it adviser Bret Bearup? Other teams don't know where the buck stops and they are not fond of talking to one person and getting one feeling, then talking to another and sensing something else.
But through it all, something must be going on if Anthony was not asked to do the promotional work of media day.