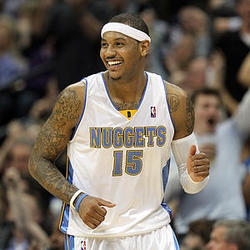 The trade rumors are still there — even as the much-discussed four-team trade is dead. The talk will not die no matter what happens with this round of rumors, there will be another and another and…
Carmelo Anthony wants to get away from those rumors. Probably more than he wants to get away from Denver.
Speaking briefly with the media after Nuggets practice Tuesday Anthony called the court his "safe haven" according to Chris Tomasson of FanHouse.
Melo would not address the trade rumors out there, but did add that not signing an extension somewhere — rather letting his contract expire and testing the free agent market — carried uncertainty because of the new Collective Bargaining Agreement.
That was all Anthony said, but the rumors keep swirling.
The latest is that the much-discussed four-team trade is dead, according to Adrian Wojnarowski. The Nets and Nuggets are looking for new partners in a similar dance, but are having trouble finding anyone. Meanwhile the Nets are growing weary of this and want some closure one way or another.
This all could go back to square one, with Anthony's people pushing for Chicago and New York and the Nuggets looking for a better deal. Except now there will be actual basketball games — and a media question in every town for Anthony and Nuggets' officials — to deal with as well.
This trade may have gone away, but the issue will not. Anthony is going to need that safe haven more and more.