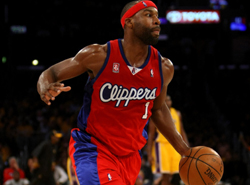 There is hope in Clipperland again. They could be pretty good, what with Blake Griffin healthy, surrounded by All-Star Chris Kaman, Eric Gordon (fresh off a fantastic World Championships), Randy Foye, Al-Farouq Aminu, Eric Bledsoe, De Andre Jordan and more.
But there is one the thing that could quickly undermine the Clippers hopes — Baron Davis. (Well, two things, another catastrophic injury, but we wish that on nobody.)
So what are almost the first words out of new coach Vinny Del Negro's mouth at media day? That he's not happy with Davis' conditioning, as reported by the Los Angeles Times.
"Percentage-wise, I'd be guessing," Del Negro said [of how far off Davis is]. "He's put in a lot of work in the last month or so. He started a little bit later probably than he needed to. He's in pretty good shape right now, but he's not where he needs to be. He knows that.

"Obviously, you want everybody in perfect condition. You have to come in training camp in shape. And the job in training camp is to get into better shape."
The Clippers told Davis this was going to the media, and the fact they were up front about it is a good sign that the organization is not codling its star.
For all the things Del Negro needs to do to turn the Clippers around, getting Baron Davis on board — or getting permission to bench him and play rookie Eric Bledsoe more — is at the top of the list. When he's into it, Davis is still one of the most dynamic point guards in the league.
When he's not, he's an anchor on the franchise. And lately, he's mostly been an anchor. Del Negro has to reach him, has to get him running, passing and setting up the offense, not just jacking up contested threes early in the shot clock.
With a focused Davis, the Clippers are pretty good. With the unfocused Davis, they're the Clippers. We don't envy Del Negro's task.