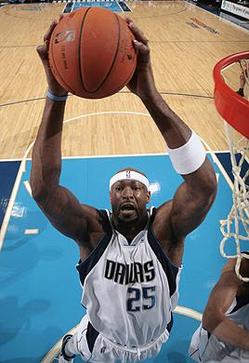 A union between Erick Dampier and the Miami Heat apparently made too much sense to come to fruition. Now, rather than the serviceable big man going to the championship contending team a bit lacking in serviceable big men, Dampier will likely land with another playoff-caliber squad.
Or maybe the Toronto Raptors.
According to Adrian Wojnarowski of Yahoo Sports, the Raps have joined the Rockets and Bucks in courting Dampier. Toronto is fundamentally different than Dampier's other suitors though, in that their current roster doesn't quite scream "playoffs!" The Chris Bosh-less Raps have the makings of a lottery team (not that Toronto fared much better last season with Bosh in the mix), and competitively-speaking, they fall well short of more talented teams like Houston or Milwaukee.
However, should playing time be Dampier's primary concern (which it very well may be; the competition for minutes at center in Miami may have scared him away from a title-worthy opportunity), Toronto seems to be in a position to make a hell of a pitch. The Raptors' leading candidates for center minutes are Andrea Bargnani, Amir Johnson, David Andersen, and Joey Dorsey, and the more productive of those players — Bargnani and Johnson — will be pulling double-duty by playing minutes at the 4.
The prospect of cracking that depth chart is a bit more promising than playing backup to either Yao Ming (who already has another decent center behind him in Brad Miller) or Andrew Bogut.
Picking up a center like Dampier on a value deal is also a no-brainer for the Raptors, even if they're not contending for a playoff spot, much less a title. Damp is the stylistic fit Bryan Colangelo has been searching for in a Bargnani running mate. His rebounding, pick-setting, and low-post defense would free up Bargs to employ his strong-side perimeter-oriented approach in peace.
The key to unlocking the potential in players like Bargnani is to put them in comfortable roles and a position to best utilize their talents. Adding Dampier to cover some of Bargnani's weaknesses isn't the Il Mago Rosetta Stone, but it's a start.