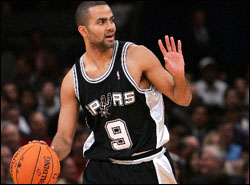 Tony Parker has been rumored to want to play for the Knicks.
Well, who hasn't. There has been everything but Brett Favre to the Knicks rumors (and would that one shock you?).
But the Tony Parker ones make some sense — he's be a great fit in the Mike D'Antoni system, he's in the last year of his contract and the Spurs have George Hill at point, who started in front of Parker in the playoffs anyway. Plus Parker has a glamorous wife, so clearly she'd only want to live in New York. The logic is inescapable. (To New Yorkers.)
Then Parker comes out at Spurs media day and throws bouquets to San Antonio, as tweeted at the official Spurs account.
"I hope Spurs fans know I want to stay here… I'm going to take Manu's example from last year."
Ginobili signed an extension and will be with the Spurs the next three seasons, rather than test the free agent market.
Does that mean Parker will be back for sure? No.
Depends on his health, and how much he and the Spurs are on the same page financially. Ginobili said he thought Parker would stay. Parker was pretty vague about whether he would sign an extension, saying at one point "We'll see."
But Parker is not going to let Knicks rumors run wild this season. As much as one can control such a thing. So, no rumors until the Spurs visit the Knicks, I guess.