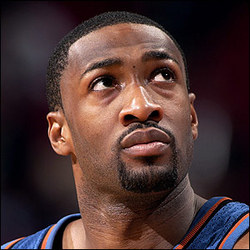 Greetings and welcome to the "NBA's most influential," a list of the 10 players who will/could have the greatest impact on the league next season. To be clear: this is not a list of projected MVP candidates, or who this author thinks will be the 10 best players in the league next season. It is simply a list of the 10 players who, based on their game, their importance to their team, and their importance to the rest of the league, will have the greatest impact on the league next season whether they succeed or fail. Without further ado, here's Gilbert Arenas.
From the beginning of the 04-05 season to the end of the 06-07 season, Gilbert Arenas was one of the best guards/pure scorers in the league. He averaged 25.5, 29.3, and 28.4 points per game during those three seasons, and missed a total of 12 games over that three-year stretch. Few, if any, players could match Gilbert's combination of three-point range, an explosive first step, passing ability, and the strength to finish at the rim any time he got his shoulder inside of his defender.
Allen Iverson succeeded by putting his defender on a string, fooling his defender into giving him a lane to the rim, and hitting a quick-release mid-range jumper whenever he was given room; Gilbert was Iverson 2.0, a combo guard with the athleticism and raw strength to bully his way to the rim or the free throw line and the ability to rain threes on any defense that sagged off of him. (And Gilbert, of course, had
the swagger to match his skills
.)
That was then; this is now. Thanks to injuries and a firearm suspension, Arenas has only played 47 total games in the past three seasons, and his combined FG% in those three seasons is only 40%. 
Here's the thing: Arenas still has more than enough talent to be an impact player. The arrival of John Wall will likely force Arenas to play the two next season, but Agent Zero has the ability to make an Arenas/Wall backcourt absolutely deadly. Flip Saunders has said that Arenas will spot up more this season, and he has the ability to punish any team that leaves him alone beyond the three-point arc. His knee injuries have taken a good bit of his explosiveness from him, but Arenas was never an above-the-rim player; his greatest talent as a driver was always his strength and ability to keep any defender on his shoulder once he got by him, forcing him to either concede the layup or give a foul — even if Arenas' first step isn't what it once was, he can still burn any team that gives him anything resembling a lane to drive through. 
Make no mistake: if Arenas can deal with the fact that he isn't a 28 PPG scorer anymore and if his knees aren't completely destroyed, he could absolutely turn himself into one of the best offensive two-guards in the league. Whether Arenas can accept his new role or not will be a key factor in Washington's success or failure next season.
The Wizards could be very, very good next season. They could also be very, very bad. I don't want to make a hard-and-fast prediction about that team, because they really have no floor or ceiling; it's hard to name a team with more extremely talented and extremely flawed players. 
John Wall may be the best perimeter prospect to enter the league since LeBron; he's also a rookie with limited three-point range, questions surrounding his ability to be a pure point guard, and an aversion to driving to his right. JaVale McGee is a true 7+ foot center with crazy athleticism, a Mr. Fantastic wingspan, and surprising skills for a man his size — seriously, he's just as comfortable stepping around the help-side defender and converting a Giant Gervin finger roll as he is putting home an easy alley-oop. He's also a center who's never shot 51% from the field and has always seemed all to content to let his man get by him for an easy layup. 
Andray Blatche has true power forward size, small forward skills, and put up absolute monster numbers after Antawn Jamison was traded away last season, but he does tend to float in and out of games, especially on defense. Josh Howard and Al Thornton are talented scorers with superb mid-range games who have all but been given up on at this point in their careers. Kirk Hinrich was thought of as one of the most complete two-way combo guards in the league before he mysteriously became "Zombie Hinrich" and averaged less PPG in his last three seasons than he did in any of his first four seasons. Heck, even Nick Young and Yi Jianlian have shown flashes of greatness throughout their disappointing careers, and the latter has supposedly
found his game this summer while working with renowned coach David Thorpe
. In short, this is an extremely talented team with exactly 0 sure things on its roster.
Exactly how good or bad the Wizards will be next season may hinge on the John Wall effect. The Wizards have a roster filled with extremely talented players with glaring weaknesses; great point guards highlight the strengths of their teammates whilst hiding their weaknesses. Wall hasn't played a minute of NBA basketball yet, but from what I saw in Las Vegas, the kid is for real. He gets into the paint at will, can hit the mid-range jumper if he's given space, and, most importantly, knows how to set up his teammates when the defenses collapse on him. 
I've seen JaVale McGee hang out on the perimeter and try to be a 7-2 shooting guard during both NBA and Summer League play for who knows how long; in Vegas, when McGee was working off of Wall's penetration, he was throwing down Alley-oops and catch-and-dunk opportunities with reckless abandon, and looked like a completely different player. Wall's summer-league teammates were also the recipients of countless open looks from beyond the arc and open lanes to drive through thanks to Wall's penetration and savvy dimes. It was only Summer League, but Wall showed that he wants to be far more than an athlete/scorer; he wants to be the next great point guard in this league.
All of this brings us back to Arenas. If Arenas accepts that Wall is going to be the one making everything go in Washington, he could absolutely experience a career renaissance — getting easy looks from beyond the arc, working drives on defenses tilted towards Wall's side of the floor, or setting Wall and everybody else up with passes for easy finishes. If Arenas reverts to his old habits and (as he is occasionally wont to do) stops the ball and tries to relive his 28 PPG glory days on a bad knee, he may become an albatross for Washington, tempt his talented teammates to try and get theirs instead of playing a team game, and ultimately end up holding the New Wizards back instead of getting them back into contention. 
There's also the matter of Gilbert's off-court persona to consider. Before Twitter caught on and players regularly blogged, Arenas gained attention for his blog on NBA.com (ghostwritten for him by former NBA.com and current ESPN Los Angeles employee Dave McMenamin), which was funny, revealing, honest, and often charmingly insane. 
The blog was influential enough for former Deadspin.com editor Will Leitch to write an essay about Arenas entitled "Why Gilbert Arenas Matters More
Than LeBron James" in his excellent 2008 book, God Save the Fan. 
In the essay, Leitch praises Arenas' accessibility; when approached by a fan at a bowling alley, Arenas invited the fan to join his game, hung out with him for hours, and then played video games with said fan all night. He also sponsored a professional Halo team, tried to vote himself into the All-Star game, talked about taking a shower in his full uniform, embraced the "Agent Zero" given to him by Wizznutzz.com, and admitted to dropping his daughter, "butt-first," on his blog. By being so down-to-Earth and accessible, Leitch argued, not incorrectly, that Arenas was a new model of athlete, one who made LeBron's reliance on corporate-friendly and team-first platitudes seem outdated and insincere. (Stop me if any of this
sounds familiar to you
.) 
Since 2008, Gilbert's relationship with the media has changed. When twitter exploded, Arenas was no longer the athlete darling of Web 2.0; an Arenas blog post would probably be the 10th-craziest NBA player admission/statement of the day if it happened today. (Arenas briefly flirted with Twitter, saying he'd start tweeting when he got 1,000,000 followers; he never came close to getting that many followers.) 
Then, of course, there was the gun thing. An NBA player who developed a cult of personality for acting goofy and occasionally stupid got suspended for a full season for acting goofy and extremely stupid. It was one of those events that makes you consider just how athletes should be covered in 2010. 
The sports media (which I am, of course, a member of) will always try to separate athletes into Good Guys and Bad Guys, and Web 2.0 has often helped them do that. But an endearing web presence like Arenas getting suspended for a full season for bringing guns into a locker room highlights the fact that as athletes gain more and more control over their public image, they become less and less like characters in a narrative and more like human beings. The same Gilbert Arenas that invited a bowling buddy to play video games with him all night brought guns into the locker room because of a gambling dispute. 
In his Arenas essay, Leitch says the following about the contrast between Arenas and LeBron/Michael Jordan:
"[An athlete] just has to be himself, an original thinker, someone who we feel is being straight with us. Michael Jordan never was this, and LeBron James never will be. We see through it now. We don't believe him."
So, should we believe Arenas? Are we willing to accept his flaws, which are serious, and embrace the man that's entertained us both on the court and off as a performer, Kanye-twitter style? Should we all go see Catfish and realize (spoiler alert, kinda) that being "you" on the internet is often just a way to market yourself rather than a true window into the soul? Or should we just worry about whether Gilbert will embrace playing off the ball alongside John Wall next season? 
All of these are valid questions Arenas raises, and ones we're still looking for answers to in the thick of the Web 2.0 phenomenon and the dawn of the John Wall era.