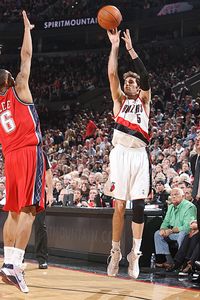 Rudy Fernandez spent all summer whining — or having his agent whine for him, that's why the man gets paid the big bucks — about wanting to be traded from Portland.
So what's the first thing he does at media day? Cuts his own trade value off at the knees. Here is the tweet from the rockin' Ben Goliver of Blazers Edge:
Rudy Fernandez says he "prefers the European style" and wants to return to Europe. "I don't feel good in NBA."
Fernandez has this season at $1.2 million and next season has a team option at $2.2 million. Fernandez the player is a good value at that price, but would you trade for him if you knew his heart was signing with Barcelona? Nope, I'll keep my first round pick and get a guy I can develop and keep, thank you very much.
So well done Rudy — you walk back into the place you don't want to be and quickly seal your fate to stay there. You get what you deserve sometimes in life.