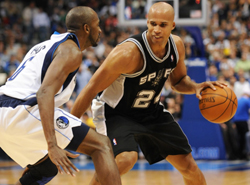 I'm not sure where Richard Jefferson learned how to be a professional athlete, but I'm pretty sure he's doing it wrong.
First, he abandoned huge short-term financial gains in favor of a more practical long-term deal. Well-played certainly, but to give up a $15.2 million single-year salary along with a chance to play his way into an even better contract? Not exactly a symptom of the confidence bordering on overconfidence bordering on hubris that we're accustomed to with pro athletes.
Then, after struggling through the '09-'10 season, Jefferson showed a lot of nerve. He went to work with the Spurs assistants, put in a summer of hard work, and really made an effort to become better acquainted with and more useful in the Spurs' system. From Mike Monroe of the San Antonio Express-News:
Spurs coach Gregg Popovich
understands what a Jefferson revival can mean. He worked with him over
the summer and helped formulate a program to improve and adapt his game
to fit the Spurs' systems. From sessions with Popovich in San
Antonio to weeks in New York, working out with Spurs assistant Chad
Forcier, and enrollment in development guru Tim Grgurich's summer camp
in Las Vegas, Jefferson threw himself into a regimen that emphasized
fundamentals.

"There are very few pros who have played as long
as he has and scored as much as he has who would do what he did this
summer," Popovich said. "He went back to the fundamentals and did
drills with myself and other coaches — basic, basic things to get his
game back to where he can really help us. His dedication and development this summer are going to be one of the most important things for our success this year."

What's RJ's deal, anyway? Are there no movies to be filmed? Is there no rain to be made? Does he really have nothing better to do than everything he should be doing?
Preseason quotes are typically dripping with optimism, but in this case, Popovich's comments seem a bit more grounded. Jefferson didn't add "15 pounds of muscle," he simply focused on tailoring his game to his San Antonio home. That's the understated off-season development that can make a player like RJ far more effective, if only by fitting bit more snugly in his role with the Spurs.
The impact of Jefferson's efforts should be obvious in the coming season, and could spearhead the internal development that San Antonio needs to seriously contend in the West. Tiago Splitter is a huge addition for the Spurs, but without significant improvements by Richard Jefferson and George Hill, the Spurs are no better than the other half dozen second tier teams in the Western Conference.