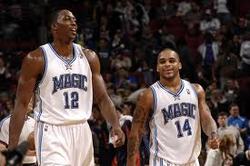 If you like messin' with Sasquatch, then go to an Orlando Magic practice and start asking questions about the Miami Heat. Pretty much the same reaction.
Orlando general manager Otis Smith led the "hey, maybe they should play a game before we anoint them" cries, as reported by FanHouse.
"They've got three, and we're solid 1-12. Until they start playing the games, it's just a team on paper."
And the collection of quotes just goes on-and-on.
"I got tired of the Heat as soon as LeBron James announced he was going to Miami," scoffed Magic center Dwight Howard Monday…

"ESPN is like 'all Heat, all the time,' " remarked Magic coach Stan Van Gundy. "This isn't about us getting together for training camp and the theme is we have to beat the Heat. That's ridiculous. There are a lot of good teams. They aren't the standard bearer."

"We will see each other down the line in the playoffs, and that will take care of itself," said Magic guard Vince Carter.
For all the talk now, the playoffs — which don't start for seven months — will be the testing ground. During the season teams don't get a lot of time to really prep for each other, during the playoffs there are far more adjustments. There is a better ability to isolate weaknesses and go after it.
Can the Magic run the Jameer Nelson/Dwight Howard pick and roll, spreading the floor with shooters that keep Miami's big three from really helping, and beat the Heat? Can Boston just overwhelm the Heat with defense and a physical front line? Are the Lakers still just deeper and better than everybody?
The answers don't come until May at the earliest. Until then, we're just messin' with Sasquatch.