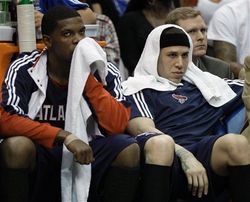 Last season: 53-29, three seed in the East. The Bucks pushed them seven games in the first round, then Orlando swept them in the second.
Head Coach: Larry Drew. Basically the Hawks decided to fire their coach and go for change by hiring the old coach's right hand man. Interesting theory. Drew may have been the top assistant for just fired Mike Woodson, but swears he's a different man with different plans. Maybe so. The real question is can Drew coax more out of essentially the same roster?
Key Departures: Woodson was the big one. The Hawks also had the rights to Josh Childress, who spurn their contract offer for Europe two seasons ago and now is now running with the Suns.
Key Additions: They kept Joe Johnson, who was a free agent. They'll regret it in a few years, but they did it. Keeping Johnson was a Hawks priority and they made it a reality by making him higher paid than LeBron James this summer. But it's not this year or next they'll regret, it's five years from now when he is still making max money but is performing like Michael Finley they'll be sorry. Maybe the current Hawks ownership plans on being out the door by then, so it will not be their problem.
Larry Drew as coach is the one addition that matters. Also added to the roster were Josh Powell, Etan Thomas, Jason Collins and Jordan Crawford. Some small time role guys, nothing changes to the core.
Best case scenario: The Hawks jump into the elite of the East and compete for a title.
For that to happen: They make a trade for another elite player and the unwieldy ownership group decides to take on more salary. Seriously, that's the only way it will happen. Because to expect more from the same roster is unrealistic. At best.
But lets say the roster does not change, what do they need to happen to take a step forward or three?
Better play at the point guard to start. Mike Bibby is your starter, but he has slipped over the years to a below average player. In a conference with Rajon Rondo, Jameer Nelson and Derrick Rose (just to name a few from teams at the top of the East) it's going to be very difficult to make the jump with below average play at the point. Jeff Teague has been told to be more aggressive, be more selfish and take the job. Own it. He's got talent, but we'll see if he can.
Al Horford needs to take a leap forward, as well. Horford is already an All-Star, a guy who gave Atlanta 14 and 10 last season while taking on more of the offense and having his shooting percentage go up. He's not a natural center forced to play against the beasts in the East (Dwight Howard, Shaq) but if the new motion offense in Atlanta can get him the ball in good positions to score he can take another step forward.
Larry Drew needs a system to get this team some easy buckets, rather than fighting through so much isolation ball to get them. That starts by getting the Hawks to run more (which ties into getting them to defend better, they were a pedestrian 13th in league last year in points given up per possession). In the half court, ball and player movement will allow the athletes on the Hawks to get some better, easier looks. All of it combined should mean more monster dunks from this athletic squad, which would be good for all of us.
Basically, the culture and system need to change for the Hawks to get more out of their talents. And that still may not be enough to make a big leap forward in the east.
More likely the Hawks will: To paraphrase Roger Daltrey: Meet the new Hawks, same as the old Hawks.
They didn't change the roster, they brought the same team back. They changed coaches but got the No. 2 guy from the old regime in. They are basically fielding the same team but expecting more in a conference that got a lot deeper and a lot tougher.
The things to watch are defense and point guard. If the Hawks can play better defense, convert that into some easy transition buckets, and get better play out of Jeff Teague (or Mike Bibby, although that is unlikely) at the point, they can improve. But even that keeps them on the second tier in the East.
The Hawks will be good, don't think anything else. This is a quality roster. They will be fun to watch. They will win a lot of games. But if the expectation is to get out of the second round of the playoffs, then they will fall short. They remain good but not good enough.
Prediction: 51 wins. The Hawks will be as good or slightly better than last year, but as the East got deeper we dock them just a couple wins. In reality, they are in the regular season second tier in the East — along with Boston, Chicago and Milwaukee — who will finish between 48 and 55 wins. Health and who blends best fastest will determine the order. But they will be in for a tougher first round playoff series than last year, and that one went seven games.